Make Cheeseman Transport Your Last Stop!
Over The Road | Regional | Solo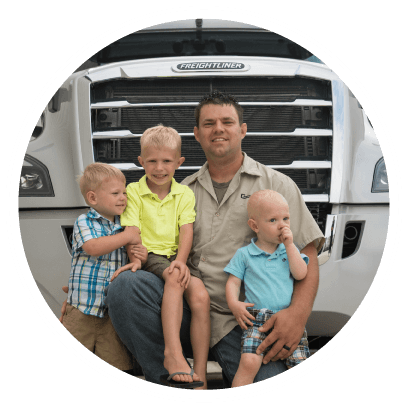 "It is a great company, with great people and great benefits. I wouldn't work anywhere else."
– Jon Britten
Our drivers are typically home every week
Our Fleet Is Top of the Line
Cheeseman Transport has top of the line trucks. Our fleet is made up of 2021 Internationals, equipped with Cummins engine. Along with 2019 Freightliner Cascadia, equipped with Detroit engines. All trucks are automatic. Making it a priority to have great equipment for the drivers to keep the wheels moving to service our customers and limit downtime.
Make Cheeseman Transport Your Last Stop!
Our pay plan speaks for itself
Cheeseman Transport benefits
• Average pay consists of base mile pay, stop pay and handling pay
• Practical mileage pay
• $8-$25 for all customer stops
• $0.04 per mile more for placarded loads
• Premium mileage pay for East & West Coast
• $1,500 to $3,000 Sign-On Bonus
• $100 per day paid orientation
• Handling and Securement premium
• Weekly pay – Direct Deposit
• Health Insurance
• Dental Insurance
• Vision Insurance
• Life Insurance – Company Paid!
• Short Term Disability – Company Paid!
• Accidental Death and Dismemberment
• Critical Illness
• Optional Life Insurance
• Long Term Disability
• 401k – Company Match Available!
• Paid Vacation
• Paid Holidays
About Cheeseman Transport
Cheeseman Transport, a leading provider of transportation and supply chain solutions, offers specialized less-than-truckload ("LTL") transportation services and truckload ("TL") services. Founded in 1946, Cheeseman Transport has grown from a single truck operation to a fleet of over 325 tractors and 1000 trailers with multiple service centers.
We are dedicated to safety and providing superior service by anticipating our customers ever-changing needs and responding to their expectations. This dedication to safety and service has been the driving force behind the company's growth and continued success.
Class A CDL Job Requirements
• 6 months recent tractor-trailer experience
• Hazardous material endorsement and tanker endorsement or able to obtain it within 60 days of employment (cost reimbursed)
• At least 21 years old
• No more than 3 moving violations or any serious moving violations in 36 months
• No felony convictions within 7 years
• Safety driven and customer service oriented
Our drivers are typically home every week, and depending on where you live and the route you are assigned, home time could be more frequent. We are proud to say that the majority of our drivers are home every week. Depending on the length of haul, break downs, delays, weather, etc. some load assignments may require extended time out.
Knowing the demands of our profession, we are very aware of the home time and family needs of our drivers. We provide easy access to personal time off with instant approval under certain circumstances. Instant approval occurs with proper notice (7 days) and previously submitted times off requests for the day from our total driver roster does not exceed 5%.
Cheeseman Drop Lot and Terminal Locations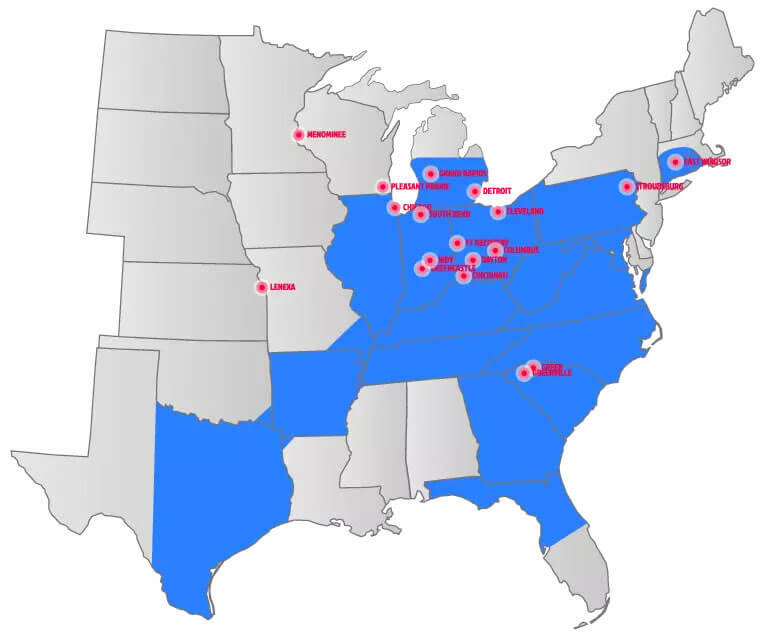 • Fort Recovery Terminal [Ohio]
• East Windsor Terminal [Connecticut]
• Greer Terminal [South Carolina]
• Greencastle Terminal [Indiana]
• New Castle Drop Lot [Indiana]
• Lewisburg Drop Lot [Ohio]
• Richfield Drop Lot [Ohio]
• Kinston Drop Lot [North Carolina]
• Atlanta Drop Lot [Georgia]
• Detroit Drop Lot [Michigan]
• Dallas Drop Lot [Texas]
• Joliet Drop Lot [Illinois]
• Wheeling Drop Lot [West Virginia]
• Warren Drop Lot [Ohio]
• Charlotte Drop Lot [North Carolina]
Apply to Drive With Cheeseman Transport
Join our team and experience the Cheeseman difference.

© 2021 CHEESEMAN TRANSPORT. ALL RIGHTS RESERVED.